Okay guys, which one is better – AWeber or MailChimp?
If you're beginner at email marketing, you probably are looking for a help in order to figure out which is better – AWeber or MailChimp, right?
Personally, I use AWeber as many other Internet Marketers do.
To be honest, I haven't seen any IM Guru using MailChimp, probably there are certain rules about how you market through MailChimp (although that may be for FREE service), but you need to check in order to be 100% sure.
Why do I recommend you use AWeber Over MailChimp?
1. Don't Use MailChimp for Affiliate Offers
Couple of years ago, I used MailChimp as it was a free service and allowed to send mail to up to 2K subscribers, however …
They did not allow me to send mails that include my affiliate links (my account was blocked 3 times). So, MailChimp would be useful for only beginners in order to "test" and learn about "email marketing."
As an Internet Marketer, I often have to send affiliate offers to my readers. MailChimp is something I would not touch with a 10-foot pole.
AWeber isn't bad …
I have been using AWeber and its very enjoyable to work with!
2. Certain Niche Are
Not

Allowed

Read their "terms of use" carefully before deciding to use MailChimp as they do NOT support certain niches.

So, it would be shame and frustrating to build up a list and have your MailChimp account terminated.

If you just want to use MailChimp to send out letters to your fans, or for business purpose, without affiliate offers, then you will absolutely love it as they have very attractive free membership offer.

On the other hand, although AWeber might seem too pricey to you, but their service is great…
3. Deliverables
Although AWeber and MailChimp are both great, however, deliver-ability wise, I personally recommend AWeber. But, if you're a web developer, then you'll probably find MailChimp uniqueness quite attractive.

You aren't allowed to use affiliate offers on
MailChimp
, so what? It still sends traffic back to your site.
4. Personal Preference
It all depends upon personal preference too.
While I was just starting out as an Writer, I found MailChimp email marketing services really attractive because …
It was FREE
I could send my email campaigns to up to 2K subscribers
Offered wide variety of templates
However, AWeber was 100x better when it came about usability.
If I could get those 6 months of Internet Marketing again, I would choose AWeber over others.
It's annoying to know that MailChimp doesn't allow you to send emails with affiliate links. At first, I didn't realize it. I think, sometimes, reading through its "terms of use" is worth the effort.
This makes me happier to choose AWeber over MailChimp.
I have used both of them. AWeber is awesome, but has limited number of templates as compared with MailChimp. So, MailChimp would be great for start up looking for free service.
5. Easier to Work with AWeber
Personally, I find it much "easier" working with AWeber. Using their email campaign, I can track my progress at ease, too.
6. Excellent Customer service
I have use both – MailChimp and AWeber – but honestly, I got the best customer care service from AWeber.
For me, being able to pick up my phone and call their reps, chat with them online, or get help for minor issues was worth the price.
Not to mention, I didn't have any issues with deliver-ability with AWeber.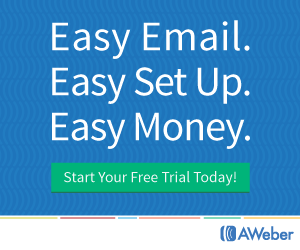 7. MailChimp is Slightly Expensive
I love the fact that MailChimp offers FREE services for up to 2,000 subscribers and you can send up to 12,000 emails per month.
BUT, in case your subscriber's list is OVER 2,000, and you need to send mass mail, MailChimp won't be cheaper than AWeber.
On the other hand, AWeber offers a FREE trial for $1 a month, and in any case if you didn't like their service, they will refund your dollar too. So, it's really up to you to decide which one to choose.
8. AWeber is for Commercial Use
I use AWeber for commercial use. But if you were looking to build a list for non-profit, then I am sure you'll love MailChimp …
9. AWeber is PayPal-Friendly
If you use PayPal, you would be glad to know that AWeber works directly with them.
MailChimp or GetResponse don't!
That means, whenever your customer makes a purchase from you, AWeber will directly send them an auto-responder to them.
10. Creating Message is Simple
While I had used GetResponse, I know there would be problems as their videos didn't play. Plus, they also had some requirements for browser you use. Lastly, you were not allowed to name your list or title someone else had used.
I also had a slight issue while creating messages. It was a simple solution: Insert the title first and then pick up a template … and lo … you're done!
The only downside of AWeber was that you must enable popups and cookies on.
For just $1 a month, I would definitely sign up for AWeber and send out affiliate offers. If it doesn't work, I can always change back to MailChimp.
Total Views: (2)