How to make money blogging for 2016, you ask.
Well, there are plenty of ways to make money from blogging, and sometimes, it could be quite difficult to figure out everything, and by that time, you would have already spent another 6-12 months.
But learning how to make money from blogging does not have to be mind-boggling, as it certainly does not have to take that long.
If you follow the 'right' money making strategies that I am going to share with your today, you should be making money from blogging within 60 days.
There are basically two ways you can make money from blogging:
Google AdSense Program and
Promoting Affiliate Offers.
In this post, I will be walking you through how to make money blogging through Google AdSense program, and later, I will also show how to make cash by promoting "hot-selling" affiliate offers.
How to Make Money Blogging: First Things First
Before you begin, remember that you do not have to follow everything laid out here.
If you know better techniques on how to make money blogging, by all means, please follow them as well. Just that you read something here, or anywhere else for that matter, does not mean that it is the only way to make money from blogging.
I want to keep things simple because there is no need to make things complicated.
The important thing here is to find 'profitable' niches (industries) that have 'low' competition, but with enough search, volume to make you money.
Once you build one site and get it ranked and start to make money blogging, you move onto another site. And you do this until you have over dozens of sites that all contribute to your bank account.
You may not make much on each site. Maybe $100-$200 per site per month, not enough to make a living from blogging. But just imagine if you have 30 sites all make few bucks a day for you, then you could easily make a full-time income.
Basically, it comes down to proper keyword research, buying a 'keyword-rich' domain, creating dozens of small niche sites with proper SEO done, and getting a specific number of quality backlinks to the site, and then lather, repeat, and rinse.
That is all there is to learn on how to make blogging for 2016, just like everyone used to in 2015, or 2014, and many years before it.
1. Getting
Started
After reading this first part, I would like you to go and download either the SEO Quake Firefox plugin or the SEO for Firefox plugin. These two tools are very important for what we are going to be doing.
In addition, you can also find few more additional tools that I personally use the links in the SEO Link Building Tools section below.
As I am going to explain to you how to make money blogging through Google AdSense program, that means you need to already have a  Google AdSense account. If you don't already, click here.
Note: In order to get you approved on Google AdSense program, you must already have a decent site ready – site with useful and original articles posted – that drive at least 100 visitors a day. If you don't already have a website set up, please read their guidelines to know what it takes to get approved.
Or, check out my article on how to set up a blog.
2. Web Hosting
If you do not already have a personal web hosting account, you will need one at this time.
I personally use 1and1 web hosting and have never had any problems with them so far. I paid less than $11 dollars for an UNLIMITED domain, UNLIMITED space, and UNLIMITED bandwidth for 12 months!
After the first year, you will have to pay $6.99 per month. And, if you run out of bandwidth, you can always upgrade your account.
Related article: 1and1 Web Hosting Review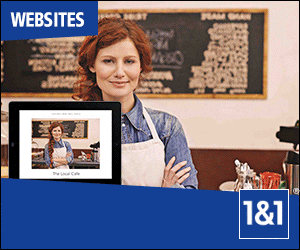 The reason why I love 1and1 web hosting is because it has a user-friendly cPanel. Through this cPanel, you can install WordPress site in just about 1.567 minutes … IF you want to build your site on WordPress.
In addition to WordPress, you can use these popular blogging platforms to set up your website. They are easy to use, free, and helps you build gorgeous websites.
3. Domain Names
For the domain name, I personally use 1and1 domain service for all my domain names.
A '.com' domain will cost only .99 cent for the first year, and after that will cost the regular price (<$15).
They also have great offers – buy 2 domain names and get 1 free – which will save you a lot of money if you were trying to build a dozen of sites just like I am doing.
4. SEO Tools
Well, here are the SEO tools that you will need in order to learn how to make money blogging.
SEO Quake – Plugin for Firefox
SEObook Toolbar – Has tonnes of tools that we will use throughout this tutorial on how to make money blogging.
5. Basic SEO Tips
Find a 'keyword rich domain'
Obviously, go for the '.com' domain first
If .com is taken, grab .org or add a word** – prefix or suffix – to the name. For example, if "www.airpurifierreviews.com" is already taken, try "www.bestairpurifierreviews.com"
Use keywords in the title, H1 tag, and sprinkle the keyword throughout the page maintaining the keyword density around 2-4 percent. Check out my article on 8 Appropriate Places to INSERT Keywords into Your Articles
Few useful tips on selecting a best domain name for your website:
Use domain name checking tool such as Domainr.com to instantly find domain names for your website as you type.
A lot of time, I personally found that www.keywordrichdomain.com is already taken. So, I would often insert a word (at the end of the domain) to it or go for the '.org' version. Sometimes, I would simply add HQ (headquarters) to the end of the domain, or add a char like 't', 'k', 'v' at the end of the domain as in 'www.airpurifierreviewst.info', so I can get the .com rather than the .org. Again, it does not have to this detailed choosing the perfect domain name.
Remember: Your number priority is just getting the keywords in your domain. All of your website traffic will be by clicking on these links, so make sure it is keyword-rich, easy to remember, and makes sense to your business.
Related articles:
Should You Use '-' (Hyphens) in the Domain Name?
There is an ongoing debate on whether to place a hyphen in between your keyword phrases. Some say do not use it, while others do not care. So, it is really difficult to be sure whether or not to use them. I would simply add a word at the end of a non-hyphenated domain name … and move on.
I have ranked pretty well with the hyphenated domain as well, but these days, I prefer to use non-hyphenated .com names for all my niche sites… by adding a word at the end of it.
With that said, we just completed the first part on how to make money blogging for 2016.
In next part, I am going to explain to you how to:
How to Make Money Blogging: Getting Started (Part I)
Over to you
Do you know the basics of making a website? Do you use any other platforms and tools to build your website? Did I miss something useful to make a blog? Please share your ideas, feedback, and experiences in the comment section below. And, if you liked this post on, please share it with your friends on Facebook, Twitter, and Google+.
Total Views: (96)